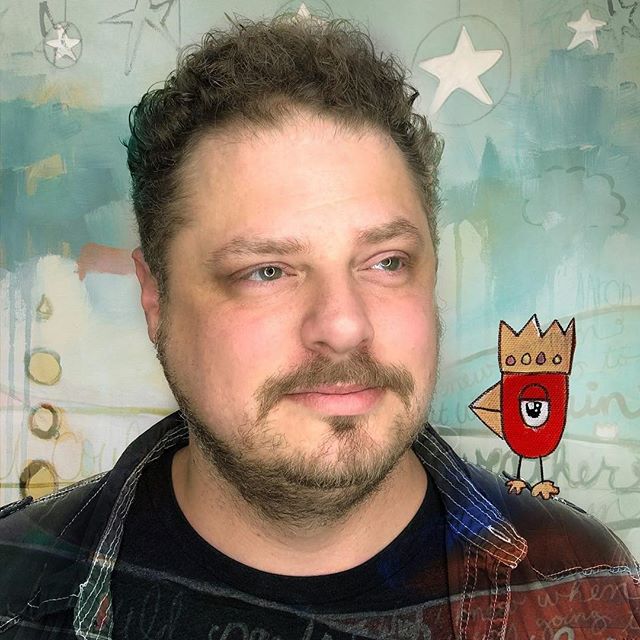 About Aaron

Inspired by his elementary school drawings of birds, airplanes, and jelly bean-shaped trees, Aaron Grayum gives his childhood new life through his artwork. Written words and intuitive lines express not only the whimsy of childlike wonder, but the vulnerability underneath it all.

---

The way I draw now and the way I drew when I was eight are not all that different. Both are raw and quick and most of the paint finds its way outside the lines. In fact, many of the subjects I currently focus on — birds, airplanes, trees, boats, and pianos — are spitting images of drawings I sketched in the margins of every single piece of notebook paper I've ever owned.

---

My hope in sharing my work with you is that perhaps you will have the experience of getting lost for a moment, away from the complications, the fears, the regrets, and the worries that have sneaked into your life somewhere along the way. I want these images to take you to another place entirely, where you can remember what it was like to see through the fog and into a world where anything is possible.
Selected Exhibitions

2018
• Artclectic – Nashville, TN
• Studio 208 Featured Artist – Nashville, TN
• Harpeth Hall – Nashville, TN
• Studio 208/TEDx – Nashville, TN
• Jewish Community Center – Nashville, TN
• JDRF Promise Gala – Nashville, TN
2017
• Markay Gallery – Atlanta, GA
• JDRF Promise Gala – Nashville, TN
2016
• Customs House Museum – Clarksville, TN
• Nashville Ballet – Nashville, TN
• JDRF Promise Gala – Nashville, TN
2015
• Style House Salon – Nashville, TN
• JDRF Promise Gala – Nashville, TN
• Crumb de la Crumb – Nashville, TN
2014
• Frist Museum Bollard Painting – Nashville, TN
• Frothy Monkey – Franklin, TN
• Plaid Rabbit – Nashville, TN
2013
• Bongo Java East – Nashville, TN
• Fido – Nashville, TN
• Tomato Festival – Nashville, TN
2012
• The Roxy Regional Theater – Clarksville, TN
• Crema – Nashville, TN
• Saffire Restaurant – Franklin, TN
2011
• Art & Invention – Nashville, TN
• CHAIR-ish – Nashville, TN
2010
• The Harding Art Show – Nashville, TN
• MIR Gallery – Nashville, TN
• Plum Nelly – Chattanooga, TN
• Art Alley – Birmingham, AL
2009
• The Harding Art Show – Nashville, TN
• Nashville's Smallest Art Gallery – Nashville, TN
• Studio B. – Alys Beach, FL
• The Art of Simple Gallery – Seaside, FL
• Abbey-Brown – Chicago, IL
2008
• The Harding Art Show – Nashville, TN
• Downtown Public Library – Nashville, TN
2007
• The Harding Art Show – Nashville, TN
• Cheekwood Botanical Garden – Nashville, TN